Needs and wants of consumers are always evolving. Companies need to find new ways to address their customers concerning products and promotions. Live shopping is one of them.
Nowadays people want personalized and entertaining services with offers and products as close to their needs as possible. The whole e-commerce landscape is moving towards a more personalized and digitized strategy, creating a sense of exclusivity in the consumer mind. New distribution channels like live shopping are appearing: live content (creating interactive relationships), time limited products and discounts (creating urgency), and of course influencers (legitimize the products, and bring visibility).
The concept of showcasing a product on camera to sell it isn't really new. If you think about it, home shopping was really similar and the only difference is the type of media used. The Internet has made teleshopping evolve towards a more online and live concept. We can say that now, home shopping is being digitized into live shopping.
The skyrocketing trend of e-commerce
Live shopping is an incredibly performant distribution channel compared to traditional techniques. A McKinsey report published in June 2021 states that live commerce has an extremely high conversion rate of 30% (compared to traditional e-commerce with 3%).
The report also highlights that young people are consuming more and more live content, looking for interactions. They are being influenced most by online content such as social media, reviews/blogs and influencers. By meeting their expectations, live shopping can generate ~20% increase in younger audiences.
In addition, McKinsey hypothesized that live commerce revenue could account for up to 20% of the e-commerce global revenue by 2026.
From East to West: a worldwide phenomenon
A vast majority of companies are already trying live shopping for themselves and are making a revenue out of it. But in Asia it's a whole different story, live shopping is an established business, running since 2017. For example, two out of three Chinese consumers had bought something through a live session in 2020. Doubtless, we can consider Asia as the birthplace of this trend.
Live shopping happens everywhere and everytime in Asia, and Carrefour Taiwan naturally hosts its own live shopping streams. Mostly through Facebook and Line (an Asian mobile messenger app), Carrefour reunites a phenomenal average number of 200K viewers each live!
Behind this success lies a strategy to stream only 4 times in 2021. This is an unusual frequency in Asia that paid off for Carrefour. It allows to focus on bigger seasonal streams covering special events, like the Ghost Festival or the double 11 shopping holiday, also called Bachelor's Day.
On the other hand, Carrefour France decided to take another path for live shopping since there are few in Europe, aiming for at least one stream per week!
France: lockdown and live-shopping
We know the French market is evolving towards e-commerce since Covid-19. Indeed the sanitary crisis accelerated digitalization. It has also helped in the emergence of live shopping in France, and especially in Carrefour.
The closing of our "none essentials" aisles (mostly non-food products) decided in November 2020 by authorities was tough, especially with Christmas around the corner. Live shopping came to be the ideal solution to promote all these toys we had in stock. This was the beginning of our live shopping adventure with 3 streamed events focused on Christmas gifts!
After this first experience, we decided to host streams concerning special events during the year. For example: Back to school events or even father's day. And when we didn't have a special event to cover, we chose to stream with a special offer: video games, mobiles phones…
Since Covid, we have proposed to our customers a new way of consuming. Live shopping couldn't be a place where we only displayed products, because our customers were expecting more than that. Facing the global decline of purchasing power, they want exclusive offers and promotions. This is why we're always looking for the best prices possible.
For example, during the 2021 Christmas liveshopping event (November 3rd), we offered our customers a Nintendo Switch Lite Console. Its price was 50€ cheaper than usual.

Live shopping is all about interactivity
Something wonderful about live shopping is the interactivity it allows you to create between your teams and your customers. You can answer their questions live and give them the best of both worlds: they can enjoy the convenience of online shopping, while getting the best possible advice like in store.
To stimulate these interactions, we often present contests within the chat, to give a chance to win exceptional prizes linked to the theme of the live stream.
During our live streams we rapidly get comments like "where's the promo code?". Consumers are constantly looking for the best offers online. If the promo doesn't satisfy them, they will quickly let you know 😉
Tech products: the live shopping stars
May 2021 was a turning point for us. We started growing a lot and decided it was time to increase the pace of our live streams to once a week.
Behind this success lies a wide variety of live topics and offers, ranging from cooking courses to tech devices or even all inclusive travels! However, we realised that our viewers were much more enthusiastic about tech live streams (phones, gaming consoles…), since these types of products are pretty popular… and expensive as well.
So any attractive promo is really sought after. For example, during our October smartphone live, we offered the Samsung Galaxy S20 phone with a 30% discount, with free shipping included.
But don't get us wrong, we still host a lot of food related streams. As a food retailer, we promote many values through programs like Act for food. Values that we pass down through our live shopping streams. We also stream during special events like "La foire au vin" (French Wine Fair), or the Vegan month, which features a lot of related products and recipes.
Broadcasting and partnerships
We're streaming our lives on a Carrefour.fr dedicated page, and they're getting streamed on our Youtube channel and Facebook page. When we want to broadcast on different platforms (ie: chefclub.tv), we then use Caast.tv, a multicasting platform that works with many social media platforms.
To promote our live streams, we use newsletter, radios in store speakers, and of course some of Carrefour's and partners social media accounts.
It goes from traditional promotion to online competitions, to attract customers with a chance to win prizes and discounts! Carrefour often organizes live events with sponsors, which participates to get better visibility, and allow us to distribute products with promotions.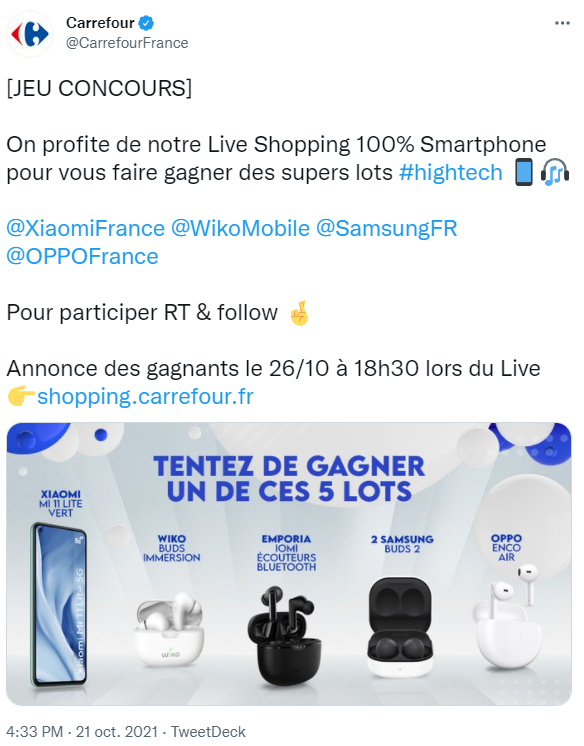 For example, our last smartphone live shopping featured a competition on Twitter with our partners XiaomiFrance, WikoMobile, SamsungFR and OPPOFrance. The competition was launched on October 21 on Twitter.The post was retweeted approximately 3900 times in only 5 days. A success that encourages us to offer this kind of competition at each event !
Great animators leads to successful live
The animators can be specialists from a specific sector (like phones, cooking, wine, etc) or animation specialists. During our first live in christmas, we asked Valentin Chevalier and Pauline Bordja, some radio hosts of NRJ, one of the most popular French radio stations.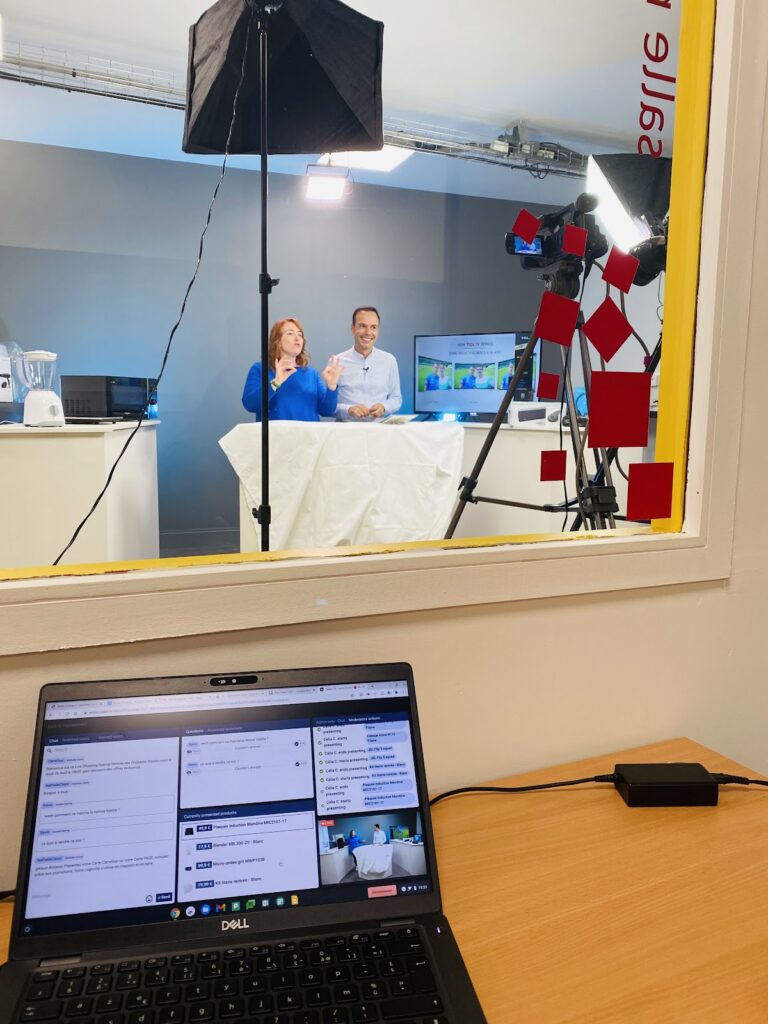 We also have some in-house star presenters like Stéfen Bompais (Hypermarket Customer Experience Director) and Olivier Garcia (E-commerce non-food director), who are very dynamic and at ease in front of the camera. It is important for us to involve our employees in our live shopping.
So… trendy or revolutionary?
In France, it was unusual for a company like Carrefour to host live streams. Since we launched them almost a year ago, these events have been organized by many retailers and have become very popular. Carrefour has been a game-changer and live shopping has brought us a lot! It gave us a great opportunity to showcase Carrefour's offerings, especially for our non-food products.
Carrefour's ambition is now to speed things up. We want to host at least one stream per week with numerous partners. We're even planning to organise some special live events dedicated to a single partner each time. Last but not least, live shopping will also be a key element in affirming our ambitions for 2026 in the non-food sector.