Check out Carrefour's latest move regarding e-catalogs, focusing on customer experience with customization and interactivity! A powerful innovation to better serve our customers and link efficiency and eco-friendliness.
Catalogs have always been a leading tool for retailers, and back in the 80's was the "golden age". They offer a great way to communicate with customer and prospects whether it be about new products, exclusive promotions or store openings. Decades after decades they have left their mark on generations of consumers… Many of their ads got cut, folded, and stored in many wallets and notebooks! 
Of course, consumer habits are always evolving. According to the ADEME (France's environment and energy management agency), in 2021, 58% of French consumers considered printed catalogs as valuable information, while the 42% others perceived them as a waste of resources. "I feel guilty when I throw away the Carrefour paper I did not ask for; especially when I can find it on the web!" said Amelia, one of our customers, during a round table in September 2021.
People are expecting more from their catalogs to just simply display products with no interactivity. With the e-commerce boom and the ever increasing demand of the customers for more sustainable and ecologic products, Carrefour's catalogs needed to be digitized. Here comes the "e-catalog"! An e-catalog shouldn't be the digital version of a traditional printed material, it also can be something far more powerful.
The rise of the e-catalogs
Nowadays, e-catalogues can take multiple forms across different channels: owned assets (website, app, email, chatbot), social media (WhatsApp, Facebook Messenger, Youtube, Facebook page), local media (e-catalog aggregators, Google My Business), innovative media (Mobile geopush).
Back in 2020, Carrefour launched in Europe and Latin America its first initiatives to test and promote e-catalogs. Pushed by the e-commerce boom and sanitary concerns due to the pandemic, the catalogs digitization has sped up a lot! During our latest Digital Day, we announced that our goal was to fully digitize catalogs for 2,000 stores by the end of 2022.
Among all countries in which Carrefour is present, one has made it to another level. Let's focus on Carrefour Brazil and its catalog digitization strategy.
The e-catalog big-bang in Brazil
Our strategy in Brazil had always been to distribute catalogs regularly, with the best offers on a weekly basis. We have printed over 384 millions catalogs in 2019, which represents 6 times the volume of the 9 largest Brazilian magazines (Epoca, Veja, Claudia…).
Brazilians used to get informed about the offers through traditional media ways, such as TV spots, radio ads, leaflets, newspapers and digital media as well. But this last format had less impact than the others… until the arrival of the Covid-19.
During the pandemic, with the quarantine that Brazilian's went through, and people spending more time on digital formats (social networks, online newspapers…), our catalogs strategy had to evolve. We had to identify new ways to spread our offers. Digital catalogs were the right answer.
Carrefour Brazil: top priority to the e-catalog
We always wanted to accelerate our catalog digitization, and in 2020 we realised that everything was reunited to make it happen. First of all, we started the digitization process converting our printed catalogs into Portable Document Format (PDF). We then distributed these digital catalogs through our website and mobile app. For the first time, we also innovated using a real-time channel, WhatsApp, which made us pioneers in Latin America.
We worked hard to encourage our customers to subscribe to our WhatsApp channel to receive the latest offers. This mobile app gave us the opportunity to provide them with a new experience. 
But don't get us wrong, our goal isn't to get rid of all of our printed catalogs. When there is a reshape of a store, we print a reduced quantity of catalogs to inform our customers. Out of the 100 Brazilian hypermarkets, 33 have been reshaped in 2021. 20,000 catalogs were therefore printed and made available to these stores.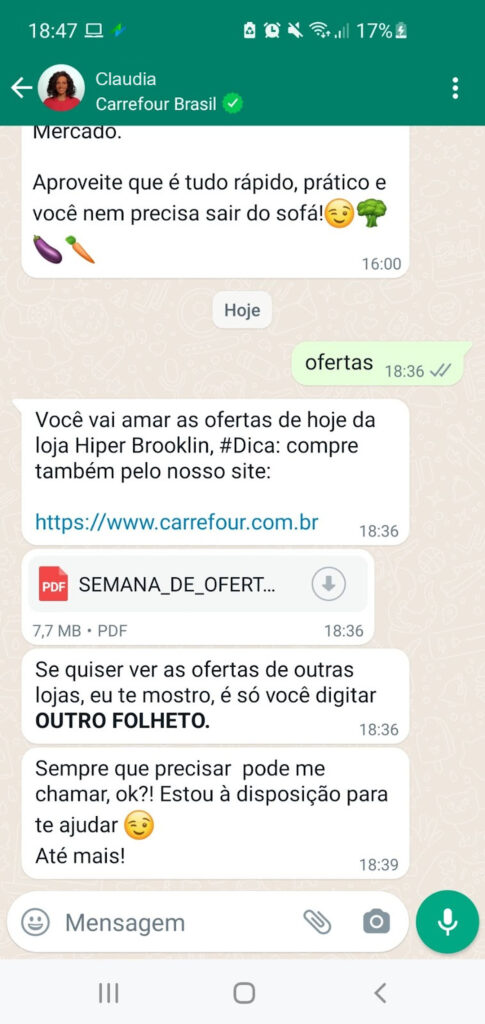 Strong reach, cost-efficiency and environmental impact
During the first year of testing without distribution of printed catalogs, we noticed no negative influence on Carrefour Brazil's business results. E-catalogs are working and our customers love them! We even multiplied our reach by 10 times while reducing our costs by 10 times too.
E-catalogs implementation isn't only about cost, it's also a great way to reduce waste and greenhouse gas emissions.The 384 millions printed catalogs in 2019 are equivalent to 96.000 of trees and 86 tons of Co2 rejected.
I'm very proud of what we are doing with e-catalogs. It's more than just turning things to digital, it's part of the company's transformation. I consider this moment iconic because it is a digital transformation at the service of customers and which is better for the environment." – Marco Aurelio de Andrade Parreti
Designing next-gen e-catalogs
The whole Brazilian market is now following the same trend, but not at the same intensity: Carrefour is making this shift faster, providing a good experience to our customers. We want to bring e-catalogs to the next level. Our aim is to transform these non-interactive PDF catalogs into something new for customers. Next gen e-catalogs are coming! 
We are working on an internal solution that will enable us to provide an immersive e-catalogue in our channels (website and app) allowing the customer to add products from the catalogs directly into their basket (click-to-basket) and check out in a jiffy.
We're also promoting our products through Facebook's digital circulars. This new interactive format displays available products in closest stores, in an e-commerce like interface, dynamically tailored for each customer with live promotions and offers. We tested it in two Sao Paulo's hypermarkets. This makes us the first retailer to try this format in Latin America! The results are prominent. We're planning to extend this to the whole country by the end of the year.
We will also increase our e-catalog's presence on multiple digital platforms such as Tiendeo. 
Why are e-catalogs so stunning?
The e-catalogs trend is not only happening in Brazil. The whole group is moving towards a more digitized approach to reduce catalogs waste and improve customer experience. E-catalogs are present in all our main e-commerce websites and in mobile apps from Latin America, passing through Europe and reaching Asia. We now want to create a new and more interactive way of promotion through innovative e-catalogs.
Next gen e-catalogs offer unlimited access, anywhere and anytime on any digital device and on multiple channels (website, app, social media…). They can provide all information needed on the product: from nutritional data, eco-scores and customer reviews, with both online and offline availability. The purchasing experience is very rich with possibilities like creating a wishlist, setting some alerts and adding items directly into the basket.
Today, technology and data enable a more immersive, personalized and multiformat e-catalog. Their content can be adapted to each customer, segment and geography. Promotions can be dynamic and tailored to each customer.
E-catalogs time to market is down to 7 days (instead of 2 months), which allows us to prepare them along the way and offer products and promotions with more accuracy, disponibility and a better understanding/anticipation of customer expectations. 
Worldwide ramp up 
We now want to develop e-catalogs capable of advanced personalization in all our countries. Our goal is to increase interactivity and provide a rich experience to all of our customers. We also want to help our stores to monitor the performance of their local promotions as fast as possible. 
Our e-catalog strategy relies on 3 pillars:
Customer experience. Allow customers to access promotions anywhere and anytime. With a rich, granular and personalized offer thanks to innovative UX and digital features.
Commercial activation. Reach more customers with targeted promotions that can be easily redeemed in-store or e-commerce websites, leading to an increasing activation. 
Operational efficiency. Ensure a more efficient media mix, reducing printing and distribution costs for catalogs while enhancing time-to-market.
"Carrefour has distinguished itself for being a pioneer in digital topics and the e-catalog is no exception. We have leveraged our key alliances with Google and Meta, being the first retailer to use Google My Business, Facebook Messenger and Facebook Circular, this allows us to make a revolution in the way our customers access our promotions in real time." – Octavio Ponce
New ways to push catalogs
We have already presented several innovative ways to make our catalogs available anywhere, anytime (website/app, WhatsApp, Facebook digital circulars). There are many others:
Aggregators. Catalog aggregators (like Bonial and Tiendeo) are websites and apps that gather and consolidate catalogs from diverse companies. Users can filter them geographically and thematically.
Chatbots on Facebook Messenger and WhatsApp. Carrefour's chatbots on instant messaging apps can be really helpful. Especially when customers are looking for a quick answer. You can see a demo on Facebook Messenger for Carrefour France.
Youtube. This dynamic format presents in video the main promotions of an e-catalog. Their audience can be very high. For example, the e-catalog video of Carrefour France between December 27th to 31th, 2021 generated almost 400.000 views.
Google My Business. When you're looking at the Google results of a business, you can see customers reviews, pictures, Q&A, address, hours, contacts… And now you can also see catalogs! 
Every customer deserves to be satisfied!
Every customer's reaction is different towards e-catalogs. It can change heavily from region to country, since every location can have different consumption habits, culture and big events throughout the year. It also changes from person to person because of age, digital habits, and engagement towards a brand. 
Back in June 2021 we tested in France an "e-catalog only experience" in 4 stores. We got various results from different locations. In Lille (a city in the northern part of France), 88% of the population opted for the digital solution. While on the other hand in Soyaux (a city in the southwestern part of France), 34% of the customers chose the digital solution, meaning the rest were more attached to printed catalogs.
Recapping, are printed catalogs over? Absolutely not, it's a tough subject. We have to find the perfect media mix between printed and digital to make sure everyone is satisfied. We understand that some of our current customers want to keep traditional printed catalogs, however new generations are eager for new ways of communication and more customized experiences. Keeping on e-catalogs innovation is our essence to reach our consumers and we will provide it.