Discover how Carrefour, as a retailer, deep-dived into this brand-new virtual world that is web 3.0. With the goal in mind to make a difference with its metaverse and NFT projects.
With the recent shift towards web 3.0, it's safe to say that the subject has been on everyone's mind at least once. But actually, what's web 3.0?
Well, the internet is evolving and is currently entering its 3.0 phase, meaning that we're on the edge of a new online revolution that might change a lot of things in today's society.
From the 1990s until the early 2000s the internet was in its "web 1.0" phase. This version of the internet had static websites, no interactivity whatsoever and the most common form of communication were emails. Up until now, we've been in the web 2.0 phase, which brought more interactive websites with a global reach, allowing the development of social media.
The rest is history. Companies like Google and Meta or other social media popularized new usages of the internet as we know it today. Now, web 3.0 is starting to emerge from the shadows with the democratization of blockchain technology.
Web 3.0, giving power to the user
Web 3.0 is changing the internet as we know it. It's user-focused and completely decentralized, which means that every user has a role to play and no central authority is there to censor, control or survey its activity. Plus, it combines blockchain technology with artificial intelligence and machine learning, providing data in a faster and more relevant way.
In short, we can simply understand that the users consume the content in a read-only mode in Web 1.0, then they can interact and create content in Web 2.0, and finally, they can own the information in Web 3.0. Evolution has given us infinite possibilities and innovation is happening all the time!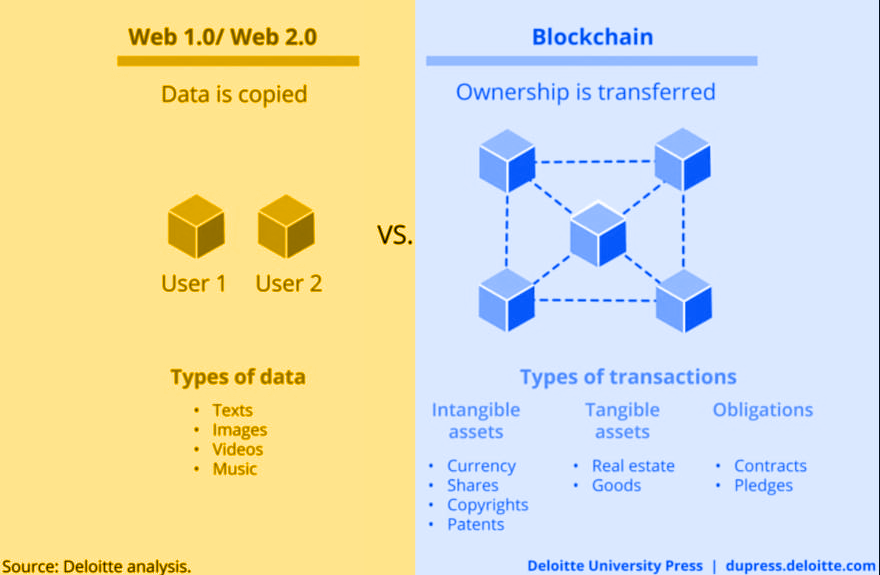 Many terms come up when talking about web 3.0: Metaverse, NFT (Non Fungible Tokens), cryptocurrencies, and virtual or even augmented realities. These new technologies are responsible for all the recent hype around web 3.0.
Tech isn't the only thing that matters, in the end, it's the user experience that counts. The web 3.0 philosophy brings the user to the center with 4 pillars: ubiquitous (accessible from anywhere at any time and by anyone), permissionless (no barriers), decentralized (no central authority), and open source (no license).
NFTs, where art meets digital
NFT, namely, Non-Fungible-Token, are cryptographic tokens that cannot be exchanged for another token of the same type. They are unique and irreplaceable digital assets presenting proof of ownership and authenticity on a blockchain.
The value of an NFT is subjective and truly depends on the nature of the project. For example, it can represent physical assets like artwork or even real estate, or just digital art collectibles like the vast majority of them. We also see emerging projects using NFT for loyalty programs aiming at creating a new relationship between a brand and its customers. NFT collectible projects often grant rewards and utilities as part of being one of the few collectors.
As a retail pioneer, Carrefour is committed to continuous innovation for the sake of our customers and the development of our business. Therefore, in 2022, we launched ourselves in the web 3.0 universe and even released our first-ever NFT series: the NFBees. he Carrefour NFBee Supermarket project, co-created with Bem.Builders and Publicis is backed with meaningful concepts that are to save the bees and raise awareness on the importance of ecological balance. This is a two phase project: the first consisting of the sale of the NFBees and the second being devoted to experiences on The Sandbox.
The collection includes 16 NFTs with lively images representing the fruits and vegetables pollinated by bees. In our case, of course, we prepare special rewards for our NFBee owners, such as receiving particular jam and honey in real life.
The proper price and simple operation allow our users to purchase their NFTs easily. In the end, 100% of the fund raised by the NFBees will be donated to the BeeFund from the Fondation de France, a French NGO supporting various social projects such as the preservation of bees. We won't stop here, stay tuned for more upcoming NFT projects!
Metaverse, test and explore
A Metaverse is a virtual world, users can enter it with avatars as in a video game and realize multiple purposes depending on their chosen experience. Remember, metaverses are part of the web 3.0 ecosystem, which means all of the assets can be traded and owned like NFTs.
What makes it stand out from classic games? It's an extremely immersive experience with the engagement of VR. Obviously, there's a huge gap between 2D and 3D worlds. Moreover, imagine you can collect assets and even earn money in the games. No wonder the Metaverse caught the public's attention so quickly in 2022! The possibilities are endless and go far beyond a classic game.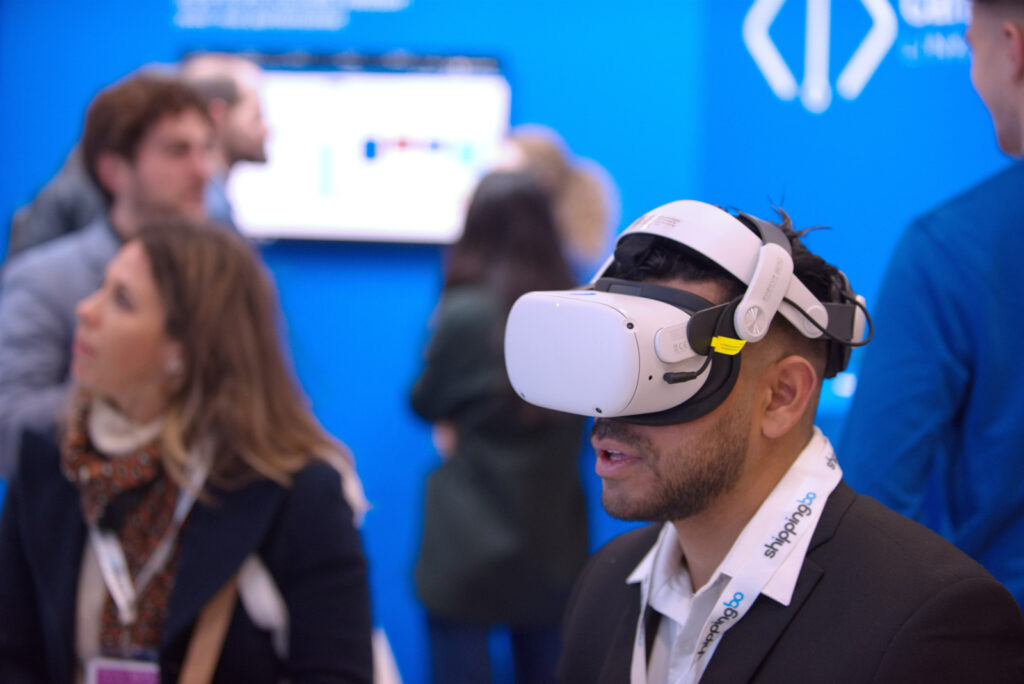 We are launching numerous projects to better engage our collaborators and consumers in the digital world. We are already on the right strategic track with many fantastic and innovative projects ahead of us.
Our projects
We are actively running various touchstone projects to explore different possibilities for our future. Back in 2021, we had our first experience on Fortnite, making players aware of the challenges of eating healthy.
Things really started after acquiring our land on Sandbox, which plays a crucial role in building the Metaverse as we know it. We believe this alliance will bring more web experiences to our clients in the upcoming months.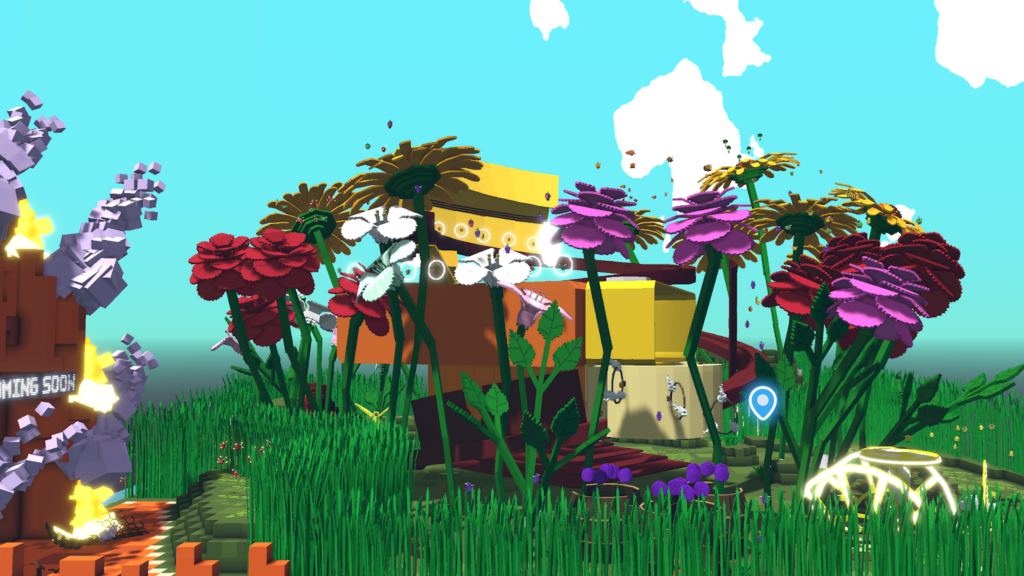 As a DigitalRetail company, Carrefour has to acculturate its collaborators, suppliers and partners to digital challenges, which web 3.0 is part of. To do so, we had a "metaverse exhibition" back in June 2022 during the "Salon Carrefour France", where digital teams showcased their projects and ambitions to the world!
During this exhibition, we allowed visitors to make their first step into the Metaverse Spatial.io, where we had set up our digital hub. They could also create a stunning avatar with Ready Player Me to explore the exhibition and discover our projects with style.
One of our experiments also went toward recruitment. What better way to recruit digital talents than going towards a more than-ever digital channel. Thus, 30 students from Ecole Polytechnique and Institut Mines-Telecom Business School experienced an immersive environment developed by Carrefour.
They had the chance to participate in a data presentation, exchange ideas together and even meet our CEO, Alexandre Bompard. In the end, candidates who were attracted by the group's ambitions had the chance to join our teams through a specific recruitment process.
Commercial activation of the Metaverse
To test and learn about the potential this technology can have for commercial activation, we partnered with Procter & Gamble to create a 3-day experimental digital event. Consumers were invited to discover Mr.Clean products in Mr.Clean's house and then purchase it on carrefour.fr. Users could also engage in a series of "missions" around cleaning products to win rewards.
The main goal was to propose an inclusive experience accessible from everywhere, on any desktop, and without any wallet. All this to create a new shopping experience and a first bridge between metaverse and e-commerce.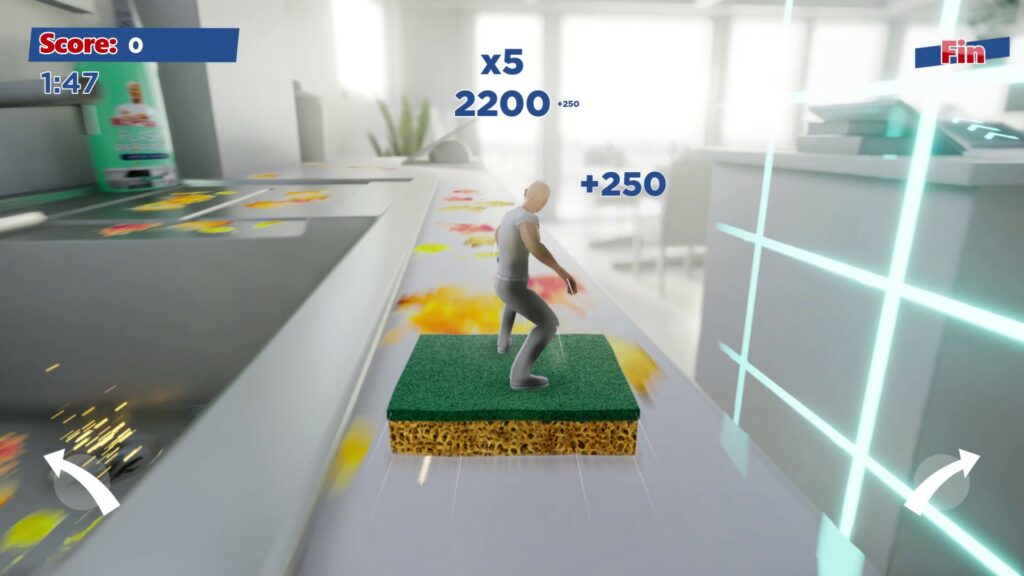 Metaverse activation in the physical world
In November 2022, we organized the first-ever in-store activation of our NFBees project, in one of our Carrefour hypermarkets in Nice, France. For the first time, web 3.0 entered a store with the goal to acculturate customers and raise awareness on protecting the bees and their environment.
We provided an immersive oculus experience and a scene display for our variety of jams and honey. Customers, including families and kids, showed high interest in the concept. They were quite curious about the project details and had fun experiencing the oculus videos. Furthermore, an NFT raffle was available for them to win a free NFBee! This 10-day activation deepens Carrefour's digital image and increases its visibility to a wider range of consumers.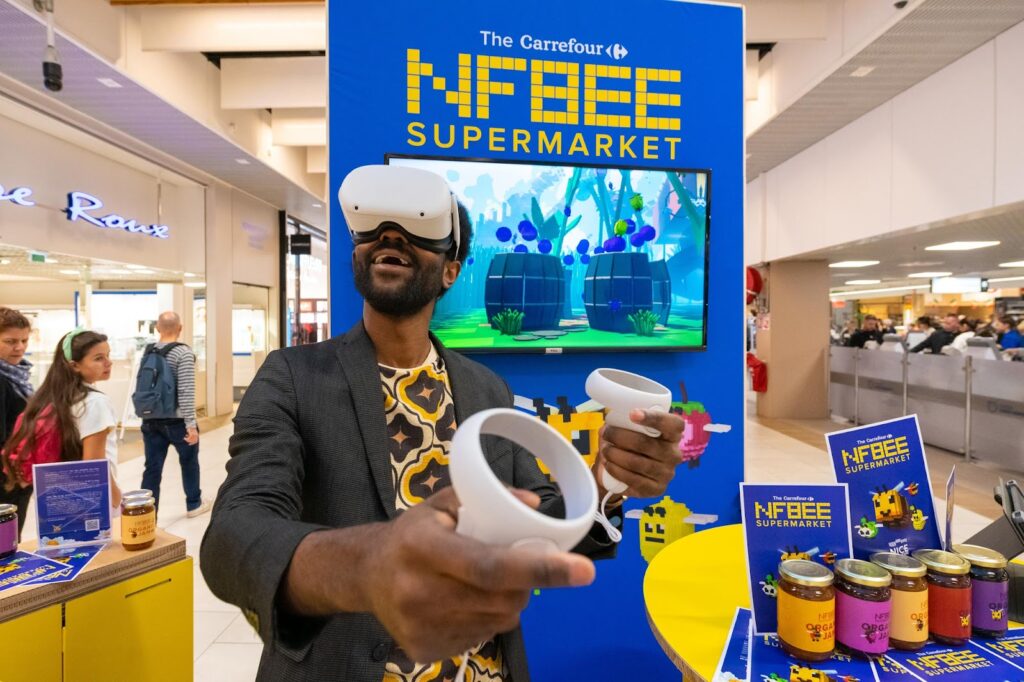 Even better, our NFBees are coming to professionals too! We decided to physically sell our NFBees through an automatic sales terminal during the 2022 Tech for retail exhibition in Paris.
Events like these will surely open the door to lead the Carrefour group into infinite possibilities inside web 3.0.
Next steps
As you may already know, our vision is to become a world-class DigitalRetail company. We are ready to take on this ambitious challenge by putting a great effort into our digital transformation. Web 3.0 is also part of this transformation as one of the many challenges awaiting us for 2026.
We will keep on exploring web 3.0 and experimenting with it with one goal in mind: better serve our customers! Because wherever the customer goes, Carrefour must be there to greet him.
Carrefour is growing and expanding its business landscape with no limits. Stay tuned for what's next to come, on Horizons.